Wow, did I seriously have a blog post up for the last three weeks with a picture of dead bugs in my freezer? I really know how to leave things on a good note, don't I?! For the three of you that have continued to check in here and had to endure that, I am deeply sorry.

The bugs are gone. The freezer's been bleached. And Sporty received a perfect score on her science project. And for all that I say: Hooray!

And because I'm sick today but desperately feel the need to push the bug post further down my page, I give you, in list form, some vignettes from my life. And in keeping with the whole creepy feeling that the bugs have added to this blog, it's a Halloween themed list. Spooky indeed!

1. Somehow I ended up being in charge of the whole Halloween party for Posh's kindergarten class. I'm not sure how that happened. I vaguely remember a phone call, some sort of peer pressure and now here I am. So, I went to the planning meeting a few weeks ago, sat with a bunch of women I don't know, but who all seem to know each other, and I now have all sorts of little tasks to accomplish. Not to mention the expectation to have a party which can entertain 20 kiddos for an hour. Oh, and I have to do it for $13. Or at least that's the amount of cash they gave me. Entertain 20 kids for an hour on $13! Oh yeah, sure, No Sweat! Each kid is getting a half a package of smarties and a napkin that they can take home to keep. Should be a huge success.

2. Posh and Baby Spice are going to be ballerinas for halloween and I'm making the tutus. I'm done with one, and have one more to make this weekend before Trunk or Treat at Church this Sunday night. Here's the one I've already made: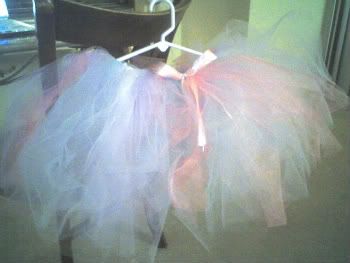 This is only the second time I've ever made a costume for one of my kids. Sporty's very first Halloween we made a butterfly costume out of cardboard and felt. It was SO CUTE!
Or maybe SHE was just SO CUTE! Eight years later, she's going as a Jedi. Surprisingly, she declined my offer of another butterfly costume. :-)
3. I'm hoping that making costumes for the girls will make up for my other Halloween failures. I'm almost embarrassed to admit this ... but ... I buy our pumpkins at Wal-mart. And to top it off, I don't have any pictures of the kids picking them out. (Do you think that would've made for a good family photo op to have the kids positioned all around the blue shopping cart?) This is all tongue in cheek, but I do have to admit that a part of me feels like the odd man out when almost everyone seems to take their kids to a patch to pick out their pumpkins these days. With three kids, it would cost us about $40-$50 to get three pumpkins. Three pumpkins that they are going to take home and hack up with knives. Hack not carve. I just can't bring myself to do it. They don't seem to mind now, but I wonder if later they'll feel deprived when they hear their friends talking about all the fun they had at the pumpkin patch. Maybe I'll just sock away that $40-$50 we saved for the therapy sessions they're gonna need.
Have a Great Weekend!